Rasa - Analysts at the US Homeland Security Department's intelligence arm are saying what we already know that there is no sufficient evidence to prove citizens of seven Muslim countries included in President Donald Trump's travel ban pose a terror threat to the United States.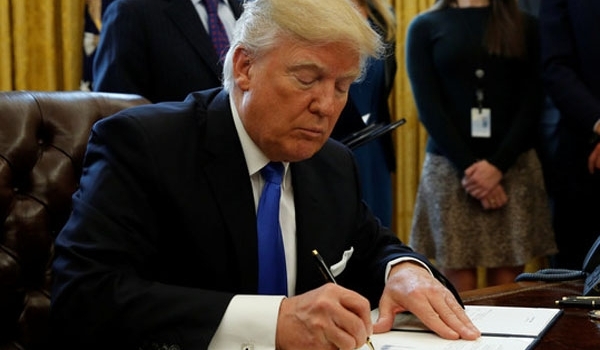 RNA - Trump's executive order applies to Iraq, Syria, Iran, Sudan, Libya, Somalia and Yemen - countries that his administration claims "pose terrorism concerns".
A draft document, however, concludes that citizenship is an "unlikely indicator" of terrorism threats to the United States and that few people from the countries Trump listed in his travel ban have carried out attacks or been involved in terrorism-related activities in the US since the war on Syria started in 2011.
This is while Trump continues to cite terrorism concerns as the primary reason he signed the sweeping travel ban in late January, which also halted the US refugee program in Syria. A federal judge in Washington state blocked the government from carrying out the order earlier this month. But a new edict would be announced soon, as the Trump administration has been working on a new version that could withstand legal challenges.
Still, it is hard to dispute the report's finding, although it is not a final comprehensive review of the government's intelligence. The provocative ban continues to spark chaos, outrage and widespread protests across the globe, with Muslim travelers detained at airports and panicked families searching for relatives. The good news is that several courts have intervened and upheld a ruling blocking the ban. They also challenge the Trump administration's claim that it is motivated by terrorism fears. On the contrary, the air is thick with lies and half-truths:
President Trump's goals continue to grow every time he gives a speech on the provocative order. His goals and intensions have gone from not interfering in Muslim affairs to creating no-fly zones and sending more US troops to Syria on the pretext of fighting ISIL. He insists few ground troops are being considered, but the credibility of that claim is very much in doubt, given thousands of US Marines are already stationed there. Besides, Pentagon says ground troops will be needed to support the new escalation and the possible no-fly zone.
This is while the ISIL menace is one created by Washington and allies. The terrorist group has been significantly strengthened over the years by the CIA program to support "moderate" rebels fighting to regime change Syria. They have already joined the ISIL and Al-Qaeda ranks. Without US arms and support, they would not be destabilizing the entire planet. These are the same goons that are also threatening the United States - not those who are the main victims of Washington's military aggression.
As previously, the ban threatens blowback. It will only make the situation worse. The Pentagon cannot help Syrian refugees caught in an open-ended war by dropping bombs on them, much less protect the American soil from terror attacks by banning them from travelling to the United States.
The Trump administration should recognize that the not-so-hidden agenda of banning all Muslims and settling for nothing less than regime change in Damascus is dangerous and deadly. It is hard to look at Trump's racist, anti-Muslim remarks and actions and still believe his decision to brand the seven named countries "a security concern" is warranted on security or foreign policy grounds.
To the contrary, the order disrupts thousands of lives, including those of refugees and visa holders all previously vetted by standing procedures that his administration has not shown to be inadequate. This argument undercuts Trump's assertion that the suspension of the ban has left the US in immediate danger.
There is no national security purpose for a total bar on entry for Muslims from the seven named countries. Since September 11 2001, not a single terrorist attack in the United States has been perpetrated by people from the countries named in the order. Many American officials and the technology sector have come out against the ban too, with leading companies including Apple, Google and Uber filing a separate brief that argues the travel ban would harm companies by making it more difficult to recruit employees.
Even German Chancellor Angela Merkel agrees. She told President Trump that the global fight against terrorism was no excuse for banning refugees or people from Muslim countries from entering the United States. Merkel expressed her concerns to Trump during a telephone call earlier this month and reminded him that the Geneva Conventions require the international community to take in war refugees on humanitarian grounds.
Even the necessary, decisive battle against terrorism does not justify putting people of a specific background or faith under general suspicion. The discriminatory ban is a moral failure. It will only feed chaos, outrage and widespread protests across the globe, while it will also provide a better ground for the terrorist groups' recruitment by infuriating young Muslims. It would not make America safer.
847/940
Please type in your comments in English.
The comments that contain insults or libel to individuals, ethnicities, or contradictions with the laws of the country and religious teachings will not be disclosed