Rasa – A group of Bahraini scholars have condemned the killing of a youth by the Al Khalifah regime and described the killings and bloodshed as the factors in the eventual overthrow of this ruthless regime.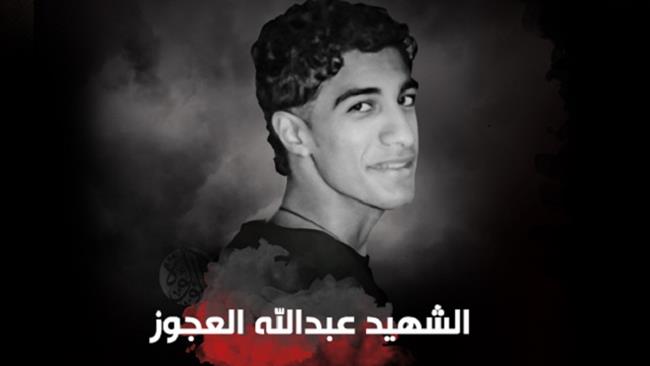 RNA – A group of Bahraini scholars have issued a statement in which they condemned the martyrdom of Abdullah Husayn al-Ajouz, a 21-year-old pro-democracy activist who was shot and killed by forces of the tiny Persian Gulf nation's forces in the village of Ma'amir on February 20.

"We offer our condolences on the demise of the martyr Abdullah Husayn al-Ajouz, who was killed by the hand of dangerous state terrorism, to the great and resistant nation of Bahrain and to the family of this martyr," they said.

The Bahrain scholars added that recklessness of the Al Khalifah dictatorship in regard to the shedding of "forbidden blood" has reached its peak and it's obvious to all that freedom has been given to the repressive and terrorist forces to engage in murder and the shedding of the blood of Bahraini citizens.

The statement emphasized that the shedding of the blood of these martyrs completely is contrary to religious teachings, as well as law and humanity, and is considered a brutal and great crime.

"The detention and murder of innocent civilians is considered as the peak of savagery," he said.

The Bahraini scholars noted that the Bahraini people have chosen the path of martyrdom, saying, "The people of Bahrain have repeatedly stated that they seek death through martyrdom and through struggling against the dictatorship and that they will maintain a life of eternal dignity and benevolence. A nation that has taken such a path will never lose their determination and will."

In conclusion, the group of Bahraini scholars stressed that the belief by the Al Khalifah regime that they can bring an end to the current crisis and extinguish the popular revolution in Bahrain through the militarization of society, murder and shedding the blood of the people is a great delusion.

"Based on historical events and the investigation of current realities, as well as historical realities, all politicians can state with certainty that this issue will hasten the overthrow bloodthirsty regimes and governments," the statement said.

Bahraini regime forces shot and killed al-Ajouz as the ruling Al Khalifah regime continues with its heavy-handed crackdown on political dissidents and human rights campaigners in the tiny Persian Gulf kingdom.

An informed source, speaking on condition of anonymity, said an undercover military unit, supported by security personnel, had stormed the village of Nuwaydrat, located about 10 kilometres south of the capital, Manama, on Monday morning, and arrested al-Ajouz, Arabic-language Lualua television network reported.

112/930/405
Please type in your comments in English.
The comments that contain insults or libel to individuals, ethnicities, or contradictions with the laws of the country and religious teachings will not be disclosed