Seminarian and Economist:
Rasa – Hujjat al-Islam Nazari-Shahroudi said that Ayatollah Khamenei said that the sale of crude oil isn't ideal or appropriate for Iran's resistance economy.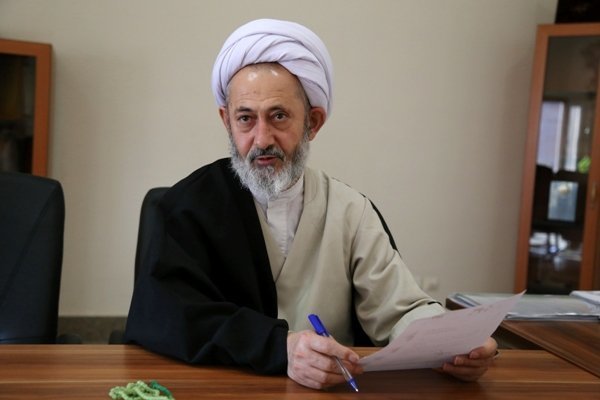 RNA – In an interview with Rasa News Agency, Hujjat al-Islam Hasan Nazari-Shahroudi referred to the Iranian government's level of success in achieving a "resistance economy" and said the main challenge in Iran's economy is its dependence on oil and this dependence began many years ago and has increased as Iran has progressed.

The deputy of the Society of Seminary Teachers of Qom added that the situation was such that some years ago more than 90% of Iran's economy was dependent oil and it wasn't until after the Iran-Iraq War ended in 1988 that this dependency was reduced to about 65%.

"The Supreme Leader [Ayatollah Khamenei] said that the sale of crude oil isn't ideal or appropriate for the resistance economy," he said.

He explained if Iran wants to sell crude oil, prices won't ultimately exceed $100 to $150 a barrel and said, "Of course, oil will no longer sell for $100 a barrel on the market because the United States produces shale oil and sells it on the market. Foremost, the US is a consumer and now is a producer."

Hujjat al-Islam Nazari-Shahroudi said the oil market won't return to its former state and Iran sells crude oil for $45 a barrel. If a barrel of water is sold in the United Arab Emirates, it's sold for more than $45. "If we want to sell oil for $45 a barrel, it costs $8 to produce and ship it. If this price is reduced, we would be selling crude oil below $40. If the price of crude oil is sold for this price, it would be sold for less than a barrel of water," he said.

In other related remarks, the seminarian and economist said that despite the lack of water, Iran must plan in order to achieve self-sufficiency in agricultural production and also export these products, such as wheat, because wheat is strategic commodity and can be used a weapon.

"If the enemies understand that a country needs this source of food, it will be the subject of pressure on the international stage, particularly since Iran holds independent political positions," he added.

His Eminence said, "As a result, those who countries which produce wheat, such as the US, aren't willing to easily provide it to those countries which need it but rather, in addition to the money they receive, they also receive concessions on the international stage."

Hujjat al-Islam Nazari-Shahroudi said that Iran must work harder and more accurately in the field of investment and economic planning and in regard to industry, once Iran can comfortably be present in the markets of neighbouring countries, such as Iraq, and flourish, at that time, we can say we have achieved a resistance economy.

"Just as we have stood on our feet in the political arena and have the last word in that sense, we can also have the last word in regard to the economy in the region," he stressed.

112/930/487
Please type in your comments in English.
The comments that contain insults or libel to individuals, ethnicities, or contradictions with the laws of the country and religious teachings will not be disclosed