Not a Canard:
Rasa - The United States is stuck in a war in which its efforts seem to make no progress toward winning, while simultaneously feeling like it can't just end it and walk away.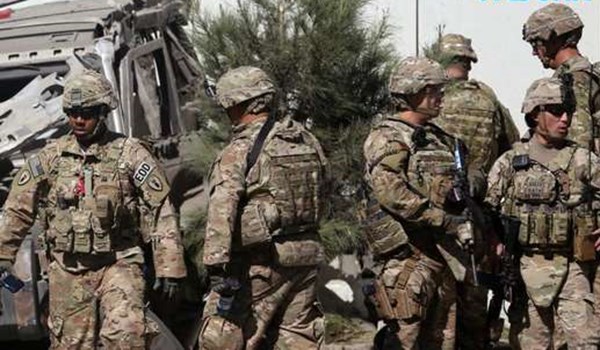 RNA - There is no reason to think this calculus will change when a new president takes over from Obama. Hillary Clinton, the Democratic nominee, has supported virtually every American use of military force in the post-9/11 era and does not appear to disagree with Obama on any of the major substantive issues over the so-called War on Terror.
On the Republican side, Donald Trump's primary criticism of Obama's foreign policy is that he has not been aggressive enough in this long war that needs to be paid for. And Air Force Chief of Staff Gen. David Goldfein appears to be the latest taking that position. He insists that a growing number of airmen will be deployed abroad for longer periods of time, as the War on Terror is going to continue for decades to come.
There are many reasons why the War Party is very specific about timetables, and why it is also setting out Russia and China as potential targets in those future conflicts. It is a tacit acknowledgment that the forever war on the pretext of fighting terrorism is not ending anytime soon:
1- Washington's foreign policy to preserve global status quo and to protect Israel feeds terrorism. This is the argument that many raise about how the warmongers and Zionist lobbies feed terrorist groups and proxies in the heartlands of the Muslim world.
2- Despite the nuclear deal, Iran is still the number one "threat" to Washington's and Israel's interests in the Middle East. The resistance movement led by Iran is active throughout the region, targeting terror proxy forces, ISIL and Al-Qaeda, in Iraq, Syria and Yemen. If Iran's allies are set on fire, the Persian Gulf will burn.
3- The terrorist groups of ISIL and Al-Qaeda are essentially running quasi states in Afghanistan, Iraq, Syria, Yemen and Libya. Even though both are fed by the Saudi-Qatari trough, their proxies are not considered terrorist groups; instead, they are called "moderates". One of these groups is Nusra Front in Aleppo, which is neither protected by the sovereignty of states nor the laws of war. The West has yet to come to terms with this new classification and is mired in classical definitions of international relations.
4- The most basic human right in the War on Terror is to live. The US has invaded many countries on the pretext of protecting their peoples' human rights and lives. The problem is, many people have been killed in the process. For the campaign to be a success, people need to be alive, else they would not be able to enjoy America's human rights!
5- International law, multilateral organizations and treaties work only when there is legitimacy and accountability. Washington's inability to successfully react to terrorism within the framework of international law has created another problem: illegal wars. Thanks to these illegal wars and regime-change conflicts, the United Nations is no longer able to defend states from US-led invasions, prevent harm to civilians, and punish war crimes.
6- The War on Terror is really a war on Islam. The West would like us to believe that its war is against Islamic extremism, totalitarianism and salafism. It's not. They are free to dance around terminology and ideas, but they can fool no one. They fight terrorist groups in Iraq, but feed the same terrorist groups in Syria.
7- Washington would like us to believe that it will win this war. Millions have been killed and many more have been made homeless precisely because of this wishful thinking. This, mixed with double standards as regards terrorism and the inability to grasp the hatred for Washington and Tel Aviv that the Muslim world has, creates the conditions for defeat.
No doubt terrorism is a worldwide problem. The only way to defeat terrorism is to have a worldwide network of states willing to work together to this end – with no strings attached and certainly no political reservations. There should be no compromise with terrorists, be it moderates or extremists. It's the same evil.
The fact remains that overconfidence on the part of the US and allies has failed to provide a strategic framework to deal with the above-mentioned issues once and for all. These factors can provide a pathway to judging victory and defeat, the discussion of which is suspiciously lacking in corporate media and official circles. Many seem willing to backtrack on the issue of Real War on Terror if Iran, Syria, Russia and China are involved. This policy is absurd, and always has been.
847/940
Please type in your comments in English.
The comments that contain insults or libel to individuals, ethnicities, or contradictions with the laws of the country and religious teachings will not be disclosed