08 April 2019 - 11:17
News ID:

444194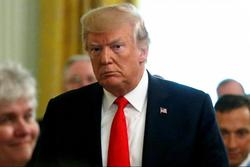 US Secretary of State Mike Pompeo, during a meeting with NATO foreign ministers in Washington on April 4, said, "We must adapt our alliance to confront emerging threats, whether that's Russian aggression, uncontrolled migration, cyberattacks, threats to energy security, Chinese strategic competition, including technology and 5G, and many other issues."
RNA - Pompeo said NATO should confront increased cyber warfare from China and its tech company Huawei Technologies, warning that neither NATO nor the US would be able to fully share information with allies if there were Chinese systems in their security networks.
In the abstract, the US government and its secretary of state may express altruistic views supportive of security and benefit for NATO allies. But this is the same country with a demonstrable history of unilateral foreign policy that has exploited, and continues to suppress and void, the United Nations institutions and treaties - including those of NATO - through periodic isolationism and exceptionalism, and a host of other defects.
To demonstrate, despite their 70-year alliance, rifts between the United States and the European Union are still high over security issues. The transatlantic tensions became worse after President Donald Trump imposed ruinous tariffs on European steel and aluminum, forcing the EU to retaliate with tariffs on American products. Trump is desperate to save face by inking a deal that would open up European markets to agricultural products, which the Europeans say would be a deal-breaker.
Here is the thing: Despite Pompeo's appeal for unity to confront "great power" challenges from Russia, China and Iran, German Chancellor Angela Merkel has already warned that Europe could no longer rely on the US to impose order worldwide, and that "European nations should be ready to take matters into their own hands."
According to Fars News Agency, evidently, whether on the topic of "great power" or protecting the EU's security, the "freeloaders" have seen that Washington is not very supportive of these policy goals if significant costs are involved. They saw how Trump questioned the value of their fracturing alliance and raised the idea of pulling out of NATO if other member states did not pay a greater share of the military burden.
As well, the "freeloaders" saw how Washington is not enamored of "democracy" in Ukraine. Put simply, it wants to trigger a new rumbling to annex Ukraine to NATO. The fracturing alliance has always been about the US - just like the encircling of Russia with bases and missiles, just like the encircling of Iran with sanctions; and just like the pivot to Asia translating into encirclement of China. This is power vanity, not routine power politics, and certainly not a strategic alliance on a par.
Among other things, the endgame is all but written: The foundations of the American unilateralism are crumbling, as many nations, including Eurozone economies, are no longer willing to stick to the same race course. Nor do they have any desire to depend on America for security and tolerate the belligerence of its global provisions for manufactured crises, commercial tensions, and military-energy domination.
This should be sufficient to compel the European Union, Russia and China to not allow the War Party to destabilize the Eurasian region through what Pompeo calls "strategic renovation". The stakes are high and this creates the possibility that they can come together on the basis of mutual trust to save the region from the Empire of Chaos and its imperial geo-strategy. In this interdependent, interconnected region, which is struggling to build fraternity, economic cooperation and human security, there should be no "vassal" and certainly no place for the US to pivot its grand imperatives of superiority, self-interest, and dark underside.
847/940
Please type in your comments in English.
The comments that contain insults or libel to individuals, ethnicities, or contradictions with the laws of the country and religious teachings will not be disclosed