05 April 2019 - 19:53
News ID:

444148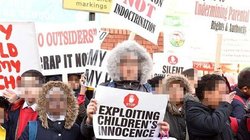 A British Muslim psychologist has spoken out after coming under attack over her awareness campaign on state-imposed Relationship and Sex Education (RSE) lessons in UK schools.
RNA - Kate Godfrey-Faussett said that she is the victim of a "witch hunt" against the Muslim community, and has been "hanged, drawn and quartered" by the mainstream media.
The British Psychological Society (BPS), the organization in charge of the profession in the UK, has said it is "concerned" by views expressed by Godfrey-Faussett. She is now being investigated over comments deemed to be "unethical".
"The BPS wrote to me condemning me of a whole list, accusing me of many things, but I still don't know what I have done wrong," she said, adding, "They accused me of attempting to promote 'conversion therapy', which is illegal in this country, but I have never said or made any reference to anything regarding conversion therapy."
Speaking to Press TV, Godfrey-Faussett, who embraced Islam over 20 years ago, has worked in classrooms and lectured warning about state-imposed teaching of sex education to children as young as four years old. One lecture she gave at the Islamic Unity Forum in 2018 went viral online.
"Since the attacks began, my employers saw articles condemning me, now I have been suspended without pay," she said, adding, "It feels like a witch hunt is going on and no one has asked for my opinion or for my side of the argument."
The investigation targeting Godfrey-Faussett follows protests by parents against homosexual relationship classes titled "No Outsiders" lessons at the Parkfield School in Birmingham.
The debate has been raging for weeks after parents at the majority Muslim school pulled their children out of classes and staged regular protests outside the school.
Godfrey-Faussett also questioned the UK mainstream media's handling of the case, saying key major newspaper have mostly tried to ignore voices opposing the teaching of LGBT lessons in the schools.
"The mainstream media will say what they want, but I think most of the public know that they just live off lies," she said, adding, "... this is what they do, they spread these allegations without any proof, and then people read the headlines, and it has an impact."
Amid the ongoing row, Muslim groups have warned that the No Outsiders homosexuality lessons are being forced on Muslim majority areas with state-backing as part of a so-called "de-radicalization" policy.
The Islamic Human Rights Commission, based in London, released a statement this week condemning the "media misrepresentation of Muslims" over the issue and warning that "The manner in which the Muslim community is portrayed in these media representations draws heavily on classic Islamophobic tropes."
The IHRC also expressed concern at the "disproportionate coverage" given to Muslims in comparison to Christians or Jews who also object to the government introduced lessons.
Godrey-Faussett said she had no regrets campaigning for her beliefs and Islamic principles that ban teaching homosexuality to children.
"As a Muslim, I knew that I had to speak out about this, I felt a sense of duty to the community. At least I raised awareness to the community of what is going on. I never have incited hatred or tried to discriminate, I have taught the opposite," she said, adding, "... it seems the media has honed in on the Muslims who speak out about this, but we shouldn't be forced into a position where we have to compromise our faith."
Godfrey-Faussett's investigation has been handed over to the regulator Health and Care Professions Council (HCPC) which is currently looking into whether any additional action should be taken.
847/940
Please type in your comments in English.
The comments that contain insults or libel to individuals, ethnicities, or contradictions with the laws of the country and religious teachings will not be disclosed