09 January 2019 - 16:21
News ID:

442911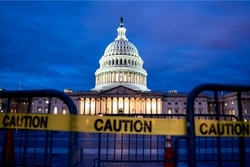 Senate Democrats are playing hardball as they try to strong-arm Republicans to buck President Donald Trump and bring up legislation to end the partial government shutdown.
RNA - A growing number of Senate Democrats, backed by progressive outside groups, are calling on the caucus to filibuster any legislation until Republicans give a vote to a House-passed package to fully reopen the government, The Hill reported.
Senate Democrats are in the minority, but if they are able to unite 41 of their 47 members behind the strategy they can grind the Senate to a standstill in an effort to ratchet up pressure on Majority Leader Mitch McConnell (R-Ky.), who has refused to take up any government funding bill not supported by the president.
Minority Leader Charles Schumer (D-N.Y.) handed the effort a significant boost on Monday, when he began telling colleagues he would vote against taking up a foreign policy bill on the Senate floor this week because of the shutdown fight.
"Schumer has notified the Dem caucus that he will vote against proceeding to S.1 because Senate Republicans should instead bring to the floor the House-passed bills to reopen the government," a senior Senate Democratic aide said.
The escalation in shutdown tactics comes as the partial funding lapse is in its third week with no signs of progress toward a deal that would reopen roughly a quarter of the government.
Recent talks among Vice President Mike Pence, administration officials and congressional leadership staff appeared to go nowhere. In a sign of digging in — and raising the chances that the funding fight surpasses the 21-day record — Trump is expected to give a prime-time address on Tuesday before traveling to the border Thursday, which would be the 20th day of the shutdown.
With Trump holding firm in his demand for more than $5 billion for the wall, Democrats are trying to keep their strategy focused on exploiting early signs of division within the Senate GOP caucus. The Democratic-led House is expected to begin passing individual appropriations bills this week, a move aimed at pressuring McConnell and vulnerable incumbents up for reelection in 2020.
Senate Democrats are more limited in their options — they could try to force a vote, but Republicans could easily block them — but the chamber's rulebook does give them enough leverage to throw up roadblocks and keep the upper chamber from considering any other legislation during the shutdown fight.
The senior Democratic aide added that Schumer has only made a decision about how to proceed on the foreign policy bill, which will face a key test vote on Tuesday night.
Republicans haven't announced what other bills they might want to bring up during the shutdown. Democrats, meanwhile, are expected to discuss strategy for non-government-funding legislation more broadly during their caucus meetings this week.
Sen. Chris Van Hollen (D-Md.) publicly began pitching the idea of a legislative blockade over the weekend and has been privately talking to his colleagues, according to a Democratic aide. Van Hollen, speaking at a roundtable in Maryland on Monday, said Democrats were uniting behind the strategy that "we shouldn't be doing unrelated business" until the Senate passes government funding bills.
"It is the position that I've got, and I think the great majority of Senate Democrats, that in the United States Senate the first order of business has to be reopening the government," Van Hollen stated.
More than a dozen Senate Democrats, including potential 2020 White House contenders, are publicly backing Van Hollen's plan.
Sens. Kamala Harris (D-Calif.), Elizabeth Warren (D-Mass.) and Cory Booker (D-N.J.), all considered possible presidential candidates, and Sen. Jeff Merkley (D-Ore.), a potential dark horse contender, threw their support behind the strategy on Monday.
"[McConnell] should immediately allow a vote on the bipartisan bills the House already passed to reopen the government— until that happens, [Senate Democrats] should block consideration of all unrelated bills," Booker said in a tweet.
Merkley told CNN's "New Day" that the Senate's schedule "cannot be business as usual if we shut down a quarter of the government and just leave it shut down".
In addition to Van Hollen, Sens. Ben Cardin (D-Md.), Tim Kaine (D-Va.) and Mark Warner (D-Va.), who all have large populations of federal workers in their home states, are supporting the strategy. Roughly 800,000 federal employees have either been furloughed or forced to work without pay.
"The Senate should vote on nothing else until we vote to reopen the government. Period. This shutdown is squeezing the finances of so many Americans, including thousands of federal workers who live in Virginia. As leaders, we can't just whistle past the graveyard of this crisis," Kaine said in a tweet.
Progressive groups that have frequently questioned Schumer's willingness to play hardball are seizing on the strategy. Indivisible, a national progressive group, is urging its members to call senators and tell them "no votes on other legislation until the government gets reopened".
The strategy will face its first test on Tuesday night, when Democrats will need to put up 41 votes to block a foreign policy bill that would include new sanctions against the Syrian government, as well as bolster US support for Israel and Jordan.
Democrats were coming under fire over the bill because it includes a provision to counter the "boycott, divestment, sanctions" (BDS) movement by opposing boycotts or divestment from Israel.
Jeremy Ben-Ami, the president of J Street, stated that it was "outrageous" for Republicans to be "prioritizing" the bill, adding that "not a single Democrat should vote to enable this farce".
The American Civil Liberties Union also sent a letter to senators Monday urging them to oppose the foreign policy bill because of the anti-BDS provision.
"To be clear: this bill is not about Israel and Palestine but rather about whether states can treat individuals differently based on the political positions they choose to express," the group wrote, noting that "moreover, the Senate should not be considering any legislation until it upholds its duty of maintaining a full and functioning government".
Trump will give a prime-time address Tuesday from the Oval Office to make his case for closing parts of the government over his demand for $5.7 billion in funding for a wall on the Mexican border. He also plans to travel to the border on Thursday, a bellicose move reflecting the entrenched positions on both sides of the debate and one that almost certainly means the 18-day shutdown will continue into the weekend.
Trump has stated that shutting down the federal government in support of his demand for a southern border wall is a "total winner" for him politically, but according to a new poll, the only people who oppose compromise on the issue are his strongest backers.
An overwhelmingly 70 percent of registered voters in the latest The Hill-HarrisX poll announced that they want Trump and Congress to reach some sort of compromise, compared to just 30 percent who say that sticking to principles is more important than ending the partial shutdown.
847/940
Please type in your comments in English.
The comments that contain insults or libel to individuals, ethnicities, or contradictions with the laws of the country and religious teachings will not be disclosed