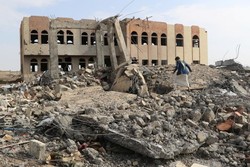 The US-backed, Saudi-led invasion of Yemen has entered its fifth year this week. Those first four years saw predictions of a quick victory turned into a massive civilian death toll, constant airstrikes, food and medicine shortages, and a cholera outbreak worse than any in human history.
RNA - This week, tens of thousands took to the streets in many Yemeni cities to condemn the Saudis for invading, to condemn the US and the UK for backing the Saudis, and to express support for the Ansarullah resistance movement and other groups resisting the illegal invasion. Slogans were chanting, and protesters said that whether it takes five years or fifty, Yemenis will remain steadfast in resisting foreign control. The rallies were present even in cities in particularly war-torn situations, like the port of Hodeida.
Without US-made bombs and British-made fighter jets, Saudi Arabia and its allies would have never been able to wage the ruinous war on Yemen for the last four years. Since their invasion on March 26, 2015, more than 19,000 raids have been carried out in Yemen, the Arab world's poorest country. When the aerial campaign commenced, expectations were high that the coalition assembled by Saudi Crown Prince Mohammed bin Salman would crush the alliance of Ansarullah and army forces loyal to former president Ali Abdullah Saleh within a matter of weeks. But after four years of fighting, and an estimated 60,000 deaths, the warmongers have failed to pave the way for the recapture of the capital, Sana'a, and most urban centres.
Despite assurances by the US and the UK that all precautionary measures would be taken to avoid civilian casualties, a sizable number of Saudi-led attacks have targeted civilian areas. According to data collected by the Yemen Data Project, nearly two-thirds of the air raids have struck non-military and civilian targets.
Airports, ports, bridges and roads have all been repeatedly and deliberately attacked. So, too, have farms, schools, oil and gas facilities, factories and private businesses.
According to the United Nations, aid agencies and human rights groups, the Saudi-led coalition has not accidentally attacked civilian infrastructure – it has been doing it deliberately. Between June and September, when they launched a new offensive on the port city of Hodeida, fatalities increased by a staggering 164 percent. Because of these incessant attacks, Yemen's civilian, economic and medical infrastructures have been pushed to the brink of collapse. Today, Yemen is the site of a horrific war, and the world's worst humanitarian crises.
According to the United Nations, up to 20 million Yemenis, roughly two-thirds of the country's population, are food insecure. Thousands of people are starving to death and dying from preventable diseases, while an average of eight civilians die from bombs and bullets every day.
Here the international community should demand answers from the US and the UK governments as to why they keep being complicit in Saudi war crimes - after years of denying direct involvement. Throughout the past four years, all questions about American-British military involvement were answered the same way, with claims from the governments that there was absolutely no role in the Yemeni conflict.
That position collapsed suddenly over the weekend, when media reports revealed that five British special forces operatives were injured in combat in Yemen, supporting the Saudi invasion. The troops were from Special Boat Service. This not only revealed that British troops were in fact involved in Yemen, but perhaps more importantly that the British government had been lying about it. The same is true for the American special forces. They are directly involved in the conflict and play a key role in providing logistical support for Saudi warplanes.
The international civil society should call for an immediate stop to US and UK sales of arms to the Saudis and their allies that are actively infringing international law and human rights by pursuing murderous campaigns against their own citizens or their close neighbor Yemen. The world community must challenge the Western governments to take a new lead in promoting peace and the rule of law in such contexts – to follow through the logic of their aid spending by recognizing their armed conflict as the source of so much human suffering.
According to Fars News Agancy, this means not only stopping arms sales to Saudis but positively investing in programs that build inter-communal and international cooperation to end the unnecessary conflict. Every day Yemeni civilians continue to be killed and injured in their homes, cars, farms, markets or in cars and buses. Houses, schools, hospitals and water tanks continue to be destroyed and damaged in this conflict. With air strikes inflicting the most damage.
In November 2018, the Saudi-led Coalition completely shut down Hodeida port for one month further exacerbating the humanitarian crisis. Today, the Coalition continues to impose restrictions on commercial goods, fuel, food and medicine coming in to the country. These restrictions have contributed to pushing up the price of essential goods and have created a shortage in medicines and fuel coming in to the country. Sana'a airport remains closed to domestic and international flights preventing Yemenis from getting treatment for life threatening medical conditions abroad.
A combination of factors such as the use of blockade, restrictions on commercial goods, the collapse of the economy and public services, coupled with disruptions to livelihoods and economic activities, health workers and civil servants in the Northern parts of the country not being paid for years is deepening the needs in Yemen and pushing millions of Yemenis to the brink of famine.
Yemenis also need to see an end to the illegal blockade, all ports and airports reopened, public services restored, and a nation-wide ceasefire so that talks can bring an end to the conflict. This is the only way to break the vicious cycle of human suffering. The success or failure of the UN negotiated ceasefire and peace talks will be critical for the future of Yemen as the crisis enters its fifth year.
847/940
Please type in your comments in English.
The comments that contain insults or libel to individuals, ethnicities, or contradictions with the laws of the country and religious teachings will not be disclosed